What I Listen to While I Create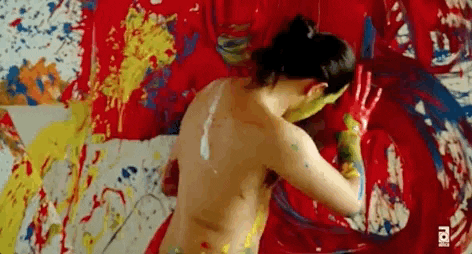 Very rarely do I sit in silence while I paint.
When I do realize that I'm in complete silence, I immediately turn on something to listen to. It used to be music (I listen to anything from heavy metal to classical to The Andrews Sisters), but lately, however, I've been listening to more inspirational and educational things.
Here's a list of my favorite webcasts and Youtubers to listen to while I paint.
Mark Carder is an amazing artist and an amazing teacher.
He provides incredible amounts of information on the topics of painting, setting up your studio, and how to build some really useful things for your studio.
I've learned a lot from him and I re-watch/listen to his videos to refresh my memory and make sure there isn't anything I've missed.
If you want to learn to paint realism, specifically in oils, although a lot of his information translates to acrylic as well, then Mark is your man.
Marie Forleo is a funny, smart, inspirational woman and the driving force behind Marie Tv.
She talks about facing your fears and pushing yourself to do great things. She gives advice on improving not just your business, but your life.
Marie interviews other entrepreneurs and talks about how they got started, what their biggest struggles were and how they got through them. She also answers viewer questions with her Q and A Tuesday, one of my favorites.
If you're struggling with your business, you need to watch Marie, and maybe even sign up for B-School. She also has podcasts which you can find on her website, Marieforleo.com
Dina Rodriguez is a phenomenal hand lettering artist, illustrator and the creator of Women of Illustration.
I started watching her Lettershoppe Twitch streams back in 2016 and followed her to Youtube when she made the switch.
She interviews female artists and talks about the obstacles they've faced, or are facing as a woman in the creative industry or just in general.
She also gives some freaking awesome gold nuggets of information about how to use social media to your advantage and overcome the mental blocks that we as women don't even realize we have.
She's also just really fun to listen to!
Follow Women Of Illustration on Instagram for surprise live interviews and for early access to her video series, you can subscribe to the WOI Patreon page for just $1 a month.
If you're interested in learning more about hand lettering, go check out her youtube channel and website. She teaches a ton of techniques, FOR FREE, and is hilariously entertaining. She also offers some awesome rewards on her Lettershoppe Patreon page as well.
Happy (I love her name), is a really awesome pop-surrealist artist that makes some really great and inspiring content to listen to while you create.
She has a variety of videos to choose from, like, Art and Chat, where she answers Patron questions while she's painting. She does Studio Sessions, where she talks about a certain art related or life related topic while you watch a time-lapse of her working on a piece.
She also has some pretty entertaining vlogs too, which for me, seeing another artist do the same thing I do or what I aspire to do, is comforting in a way.
She talks about how the artists life can get lonely, because, you're basically sitting in your studio alone every day and how vlogging helps her to feel less lonely.
I guess simply knowing that someone somewhere out there is doing the same thing I'm doing and feeling the same way I feel makes me feel less alone.
I hope you guys check these awesome creators out and give them all the likes and subscribes that they deserve. I think they're really awesome and inspirational and all those other adjectives that I've used throughout my post and I hope that you do too.
I'll catch you guys later. Toodles!